Delhi, the capital of India, offers a variety of options for Traveling with Friends, including visiting Historical Monuments and Landmarks, trying Delicious Street Food, and Shopping at Local Markets. Some popular places include the Red Fort, Qutub Minar, and Jama Masjid. Additionally, Chandni Chowk and Connaught Place are Popular Shopping Destinations. Enjoying a traditional Indian meal at a local restaurant is also a great way to bond with Friends in Delhi.
Fun Activities In Delhi With Your Friends
There are many Fun Activities to do in Delhi with friends, including:
Exploring Historical Landmarks and Monuments: Delhi is home to many famous landmarks, such as the Red Fort, Qutub Minar, and Jama Masjid. These sites offer a glimpse into India's Rich Cultural Heritage and History.
Street Shopping: Connaught Place and Chandni Chowk are great places to explore local markets, street-side shops, and food.
Food Tour: Delhi is famous for its street food, and it's a great way to explore the City and bond with Friends. You can visit different places and try different street foods.
Visit Museums: National Museum, the National Gallery of Modern Art, and the National Handicrafts and Handlooms Museum are some famous museums in Delhi.
Take a Rickshaw Ride through Old Delhi: This is a great way to see the City and Experience its vibrant streets.
Take a Bike Tour: You can take a Bike Tour of Delhi and see the City from a different Perspective.
Visit a Theme Park: Adventure Island and Kingdom of Dreams are some of the famous theme parks in Delhi.
Go on a Photography Walk: Delhi has many Picturesque Locations Perfect for Photography. You can explore the City with your Friends and take beautiful pictures together.
Visit the famous Lotus Temple and ISKCON Temple.
Visit the famous India gate, Rajpath, and Raj Ghat, famous tourist places in Delhi.
Places To Visit In Delhi With Your Friends
1. India Gate
India Gate is one of the Most Historically Significant Places in Delhi. Standing 42m high and 9.1 m wide in the center of Delhi, this place is a favorite among Delhiites who visit India Gate on summer evenings and Picnics with their Friends. There is no entry fee. Owing to its rich architecture, it has become one of the most popular picnic spots in the country. Every evening, the gate is lit with spotlights, making it one of the favorite tourist places.
2. Hauz Khas
This place remains open from Monday to Saturday. It has several pubs, pretty little cafes, and bars here and there. Hauz Khas is a go-to place for all the party lovers of Delhi. Hauz Khas offers a wide range of delicious cuisines from continental to Himalayan.
3. Worlds Of Wonder
Worlds on Wonder, located in Noida, offers the best experience to beat the heat. Visit this place with your squad and create countless memories. It not only provides rides and attractions for kids but adults are also very well covered. The rides include Mega Disko, Mad Bull, Big beat, Chart Smashers, etc.
4. Delhi Haat
This place transfers you to the colorful world of Handicrafts and Crafts all over India. It gives you a taste of different parts of the country under one roof. You can find Juttis with Pompoms and Mirrors, Ethnic and Antique Jewelry, Desi Clothes, Kashmiri Shawls, Home Decor Items, Furniture, Beautifully Designed Carpets, Khadi Clothing, Artistic Mirrors, etc. Delhi Haat also offers delicacies from all over India.
5. Connaught Place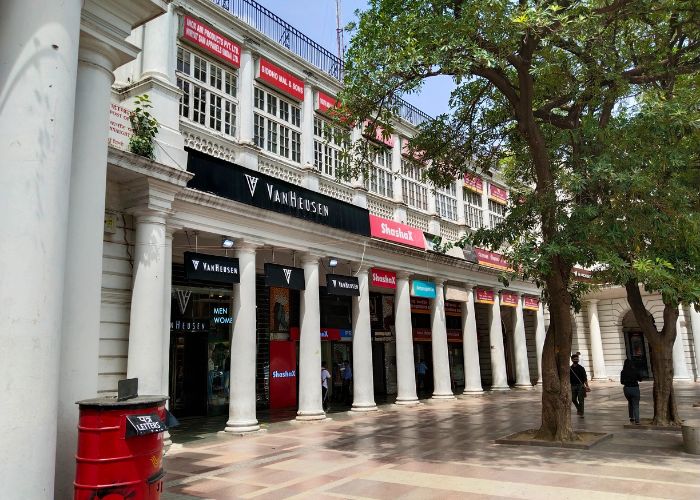 Connaught Place, also known as 'CP,' is a massive commercial center of Delhi. This place has almost all international chain stores, restaurants, and bars. In front of Connaught is an Indian flag, one of the country's largest. Delhi's first toy store, art gallery, and ice cream parlor opened here. This place offers myriad choices for nightlife, like bars, pubs, cafes, sports bars, etc. Your visit to Delhi is only complete with visiting Connaught place.
6. Parathe Wali Gali
Who likes to have something other than delicious while you are on a trip with friends? If you are a gym freak and it is a cheat day, this is the best place to go in Delhi. This place is dotted with shops that have been serving delicious food for years. Pandit Gaya Prasad Paranthe Wala is one of the oldest shops in this Gali, dating back to the 1870s. The legacy continues to date, making it one of the most visited places in Delhi. The most famous shops include Kanhaiyalal Durga Prasad Dixit Parathe Wala, Sharma Bhojnalaya, Jung Bahadur Kachori Wala, and Kedarnath Premchand Halwai, Pandit Gaya Prasad Shiv Charan, etc.
Conclusion
This concludes our Blog, we hope that you enjoyed it and have a good time with your Friends visiting these Places and doing these Activities.
Latest posts by Divyeh Sharma
(see all)