One of those popular cities of Iran is located in its southwestern part on Rudkhaneye Koshk (a seasonal river), in the capital of its Fars province. Amongst the oldest cities of ancient Iran, this city is famous for its gardens, poets, nightingales, wine, and flowers. The Beautiful City Of Shiraz has gardens like Eram Garden, Afif Abad Garden, and many more. It has numerous wines, but during the current Islamic regime, consuming liquor is prohibited except for the minorities residing there.
Shiraz is also known as the centre of Iranian Culture, which gave birth to many poets like Saadi (12th-13th century), Hafiz (a mystic), Qutub Al-Din Al-Shirazi (a 13th-century poet), and many more.
Places To Visit In The Beautiful City Of Shiraz
1. Shāh Chérāgh Mosque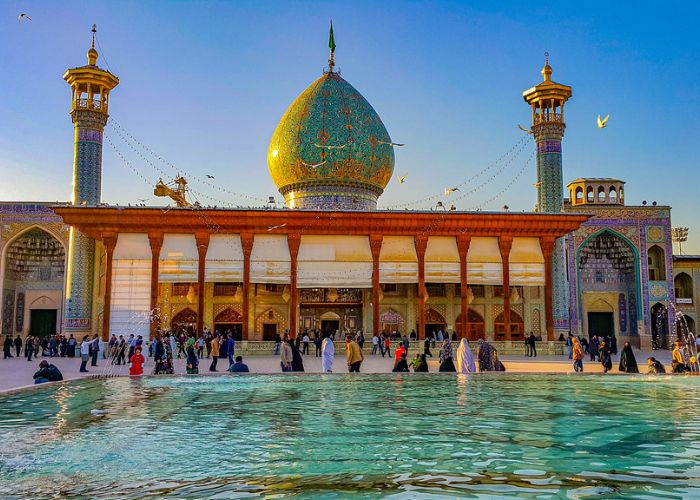 Shāh-E-Chérāgh (King of the Light), this mosque houses the tomb of the brothers Ahmad and Muhammad, who took refuge during the Abbasid persecution of Shia Muslims.
This place was given such a name due to its nature, observed by Ayatullah Dastghā'ib that the grave was emitting light within a graveyard. When it was excavated then, a body wearing armour was found. It is also called the burial site of Mūsā al-Kādhim because of the ring found on the body during excavation; it mentioned al-'Izzatu Lillāh, Ahmad bin Mūsā, that means "The Pride belongs to God, Ahmad, son of Musa".
2. Nasir Ol Molk Mosque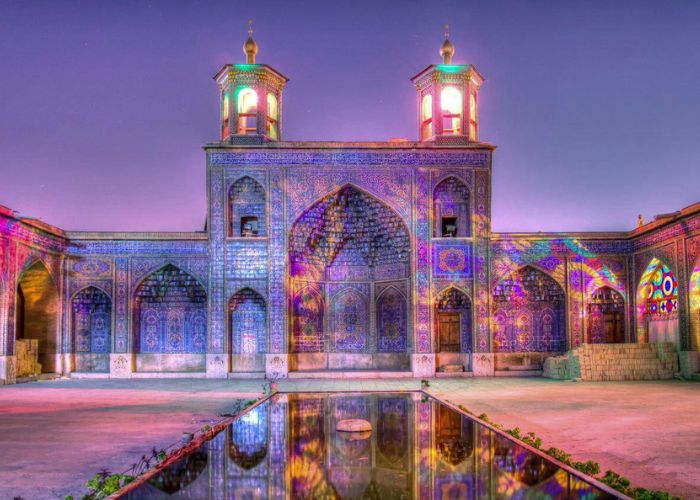 Located near Shāh Chérāgh Mosque, a traditional mosque in Shiraz, Iran, is also called Pink Mosque. Its construction began in 1876 during Qazar Dynasty by order of Mirza Hassan Ali Nasir-Ol-Mulk, one of the lords and aristocrats of Shiraz, the son of Ali Akbar Qavam al-Mulk, the kalantar of Shiraz, and was completed in 1888.
Mohammad Hasan-e-Memār, a Persian architect who built this mosque, designed beautiful endowments of extensive coloured glasses, Panj Kāse ("five concaves") design, ORSI: Persian stained glass, etc.
Stained glasses were the earliest discovered in Syria during the 7th century. Orsi is not ordinary stained glass; it creates a colourful light on the interior of buildings, unlike stained glass used in churches and ottoman mosques with intricate illuminated images.
The Quran mentions the importance of light in its chapters – " Allah is the light of the heavens and the earth." This is why instead of ordinary stained glasses, Orsi was used in constructing this mosque.
3. Tomb Of Hafez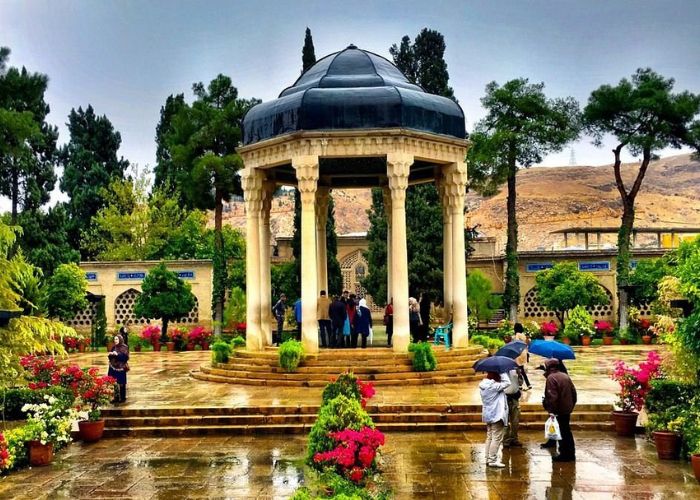 Hafez (1315-139), a famous court poet, was a beloved character of Shiraz. In his memory, two tomb-like structures were constructed near his grave in Golgast-e Mosalla (Mosalla gardens, now) in 1452 at the order of Abul-Qasim Babur Mirza. Later, in 1935 it was reconstructed by a French architect and archaeologist, André Godard.
Mosalla gardens, with a surface area of over 19,000 square meters, are a tourist attraction because of Hafez's engraved poems.
4. Quran Gate (Darvazeh-e-Quran)
Built by Adud ad-Dawla, Quran Gate is a historical gate located the North of Shiraz. During the reign of the Zand dynasty, this gate suffered damage and was restored after some time when a small room was also added to it at its top where handwritten Qurans by Sultan Ibrahim Bin Shahrukh Gurekani are kept. The two Qurans are called Hifdah-Man. It is believed that the travellers passing beneath the gate receive blessings from the holy book.
In Iranian Culture, walking behind the Quran is considered auspicious as it brings luck and blesses one with his journey. In 1937, the two Qurans were taken to the Pars Museum of Shiraz (currently present only). This gate has a passage to Isfahan and Tehran (Allahu Akbar Valley, then).
Conclusion
These are some places to Visit in the Beautiful City Of Shiraz. Do visit the famous city known as the centre of Iranian Culture.
Latest posts by Divyeh Sharma
(see all)