South Africa is well known for its slogan, "rainbow nation." It means one of the most beautiful and wealthiest African countries. Also rich in history and beautiful tourist attractions for first-time travelers and veterans. South Africa offers a great variety of tourist attractions, such as great open grassland savannah, beautiful deserts, magnificent gorges, and unique only in Africa kind of wildlife like the "Big Five." Tourists flood all the luxurious lodges and private game reserves in search of adventure and to see some of the world's most beautiful coral reefs, golden beaches, and prestigious dragon-backed mountains each year.
If you are also searching for adventure and are considering adding South Africa to your itinerary, let us be your plug and give a list of the Top 5 Places to Visit in South Africa.
Our Pick Of Top 5 Places To Visit In South Africa
1. Cape Town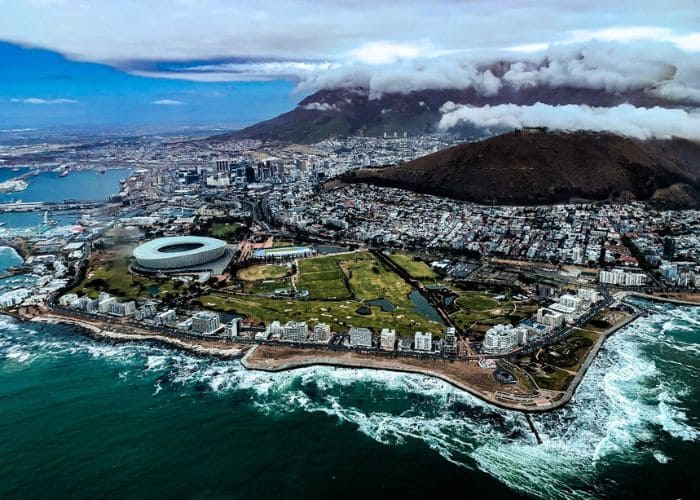 To start our list of Top 5 Places To Visit In South Africa, we shall start with the beautiful Cape Town. Cape Town, South Africa, is counted among the most Breathtaking Cities in the world, with the likes of Paris, Tokyo, and New York City. The city has earned its place through its spectacular places, like the magnificent Table Mountain, which offers a panoramic view of the whole city after a short hike.
Cape Town is where you can also find the Kirstenbosch Botanical Gardens, which are found within a UNESCO World Heritage Site. From there, down the coast, you will find many natural wonders. You may easily spot some penguins waddling along the beaches in False Bay. As you go towards the city's south, you will find Cape Point, home to many wildlife and botanical species.
Cape Town is also most well-known for its boulder-flanked beaches, of which Camp Bay is the favorite, with many shops and cafes just nearby.
2. The Drakensberg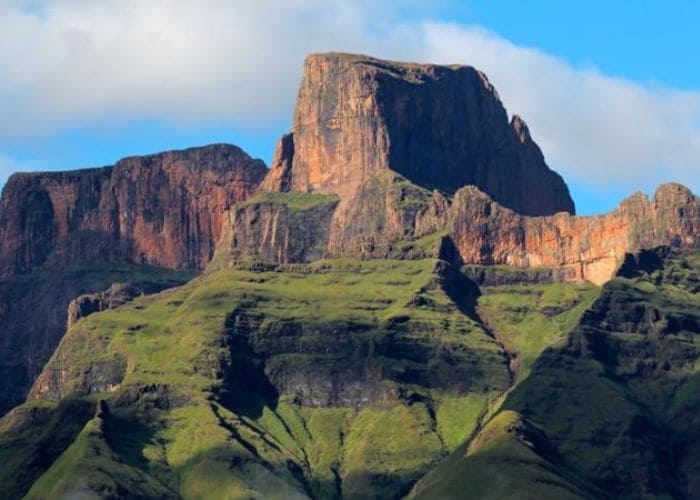 The majestic Drakensberg, which translates into Dragon's Mountain, is located in KwaZulu-Natal in the southeastern part of South Africa. The Drakensberg is where the country's highest peaks are located, and it is one of the best tourist attractions for residents and tourists worldwide.
The Drakensberg is where you will also find the uKhahlamba-Drakensberg Park, a region listed in World Heritage. It is a region of dazzling beauty with a magnificent cliff face, San rock art, basalt buttresses, and the Royal Natal National park, solidly settling the Drakensberg's place in the Top 5 Places To Visit In South Africa.
Here you can find more than 800 species of well-sheltered flowering plants and a plethora of wildlife. Each year visitors can be seen flocking to the area for hiking and riding up the beautiful scenic mountain trails. Some visitors come to raft the fast-flowing waters from the rivers there.
3. The Garden Route
Along South Africa's southeast coast, running for about 200 kilometers through South Africa's breathtakingly beautiful coastal scenery, we find the Garden Route, which rightfully stands as one of the Top 5 Places To Visit In South Africa.
The Garden Route stretches from Mossel Bay, along the Indian Ocean in the Western Cape, and to the Storms River in the Eastern Cape. This popular route offers a drive through rolling green hills, lagoons, coastal towns, lakes, and some coastal cliffs. One of the highlights of the Garden Routes is the Garden Route National Park, with beautiful gorges, tidal pools, and some thick, lush forests.
Along the drive, you will find Oudtshoorn's Ostrich farms and the Cango Caves, which have many hidden chambers cut in thick limestone rock layers in the Swartberg Mountains.
4. Blyde River Canyon Nature Reserve
Fourth on our list is the Blyde River Canyon Nature Reserve, known locally as Motlatse River Canyon. It is a favorite stop for many tourists traveling from the Kruger National Park and the city of gold, Johannesburg.
Blyde River Canyon is the second largest canyon in Africa, with beautiful wildlife species and a diversity of plant life. It boasts lush, beautiful foliage, majestic waterfalls, and crystal-clear rivers, and its lichen-covered rock formation creates a beautiful mixture of color and texture.
Many tourists are attracted by game viewing as you can easily find some African primates. You can spot some hippos and crocodiles from the rivers, which has proven to be quite rewarding to many visitors.
5. Robben Island
Well, the last place on our list is steeped in history: The Iconic Robben Island, also listed on the World Heritage List. Located at Table Bay, in the Western Cape Robben Island, stands a grave reminder of the horrors during the apartheid.
Robben Island is where the well-known Nelson Mandela spent 18 years of imprisonment in a small town alongside other political protesters and many other social misfits. One unique feature about this place is that the ex-prisoners are the guides, and they share first-hand encounters of all the vicious encounters they had in this place.
Visitors here usually start with the multi-media exhibits found in the museum at the Nelson Mandela Gateway, and from there, the visitors will get to experience a boat ride through some rough swells for about 45 minutes before they can reach Robben Island.
Conclusion
This concludes our list of the Top 5 Places To Visit In South Africa. Each place listed here offers luxurious hotels and lodges to stay in. You can find local guides around the place to make your experience beautiful and hassle-free experience.
Latest posts by Divyeh Sharma
(see all)