"Malta, where is that?" You may have heard of the small archipelago between Sicily, Italy, and North Africa in the Mediterranean Sea. Magical Malta ticks all the boxes: Good Food, Sunshine, and a Solid mix of Culture & Adventure.
While I enjoyed my time in the Magical & Charming Malta, I visited in January. Perhaps Malta is better suited as a Summer Destination when you can enjoy Ocean Activities. That being said, Malta has some of the most beautiful water I've ever seen, and the highlight by far was our day on Gozo, one of the larger islands.
Malta has a Great Balance of Culture, Adventure & Beach. With its deep and complex history, you'll find no shortage of Historical Places to Explore. The islands are also known for their Secret Beaches, as long as you know where to look.
Mdina & Rabat are two of the Best Places to Visit in Malta. Though both are pretty small, I would recommend taking your time to wander around and explore both towns, especially in the evening. Mdina is also called the Silent City. It is the highest and oldest city in Malta.
Do plan to spend 3-4 days in Malta if you're there in the Winter, Spring, or Fall. You'll find that's plenty of time to explore the Islands' highlights. If you're there during the Summer, add an extra day or 2 to swim and explore the Island's Hidden Beaches.
Do make sure to try the local Delicacies: Lampuki Pie (Fish Pie), Rabbit, Bigilla (Broad Beans with Garlic), Pastizzi (Pastry filled with Ricotta or Mushy Peas), and Qassatat (Flaky Pie with Ricotta and/or Spinach).
Don't expect to see the famous Azure Window in Gozo. The structure sadly collapsed in early 2017.
For transport, simply rely on the public buses to travel around the IslandIsland. While they are inexpensive and convenient from any place, they show up every 15 mins. I bought a Malta Card valid for 7 days and saves you a great deal of money on the bus.
Malta is well known for its Nightlife and Party Scene, and with a vast array of Nightclubs, Bars, Restaurants, and Wine Bars, you'll never be far from a good time. They are open till 7am and always up for good fun. I stayed in Sliema next to the Beach, and I will advise everyone to Stay in Sliema or St Julian's.
Most people speak English, which is one of the official languages. Maltese is a mix of Arabic, Italian, and English. Free Wi-Fi is available in almost the entire country.
"Malta is probably the most colorful IslandIsland I have visited on my world travels. I was mesmerized by the bold and bright colors against the white limestone."
If you are a budding photographer or if photography is your passion, then I'd love to suggest you book a trip to Malta.
It should be on your top list if you are a female solo traveler like me. I never felt so safe on earth, Malta, and you can't ignore a good-looking lad. LOL!!
The people of Malta have this distinct chill, like most Mediterranean countries. They are really open and friendly to strangers – they will always help you when you are lost. They have a culture of eating out and dressing up. The culture is very similar to Italy – Family Importance, Food Importance!
But in general, people are charming, a little loud like us. Whenever I sit on the bus, I always chat with the people next to me. I did make a new friend there, and it's been 3 years, and we are still in touch.
"Yes, it goes without saying that I fell in love with this Mediterranean and European paradise! Magical Malta now occupies the top-notch position in my list of personal favorite places that I've been to. And it immensely captured my heart, soul, and entire senses effortlessly!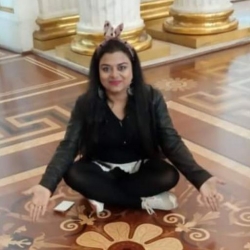 Latest posts by Nandita Chaudhuri
(see all)